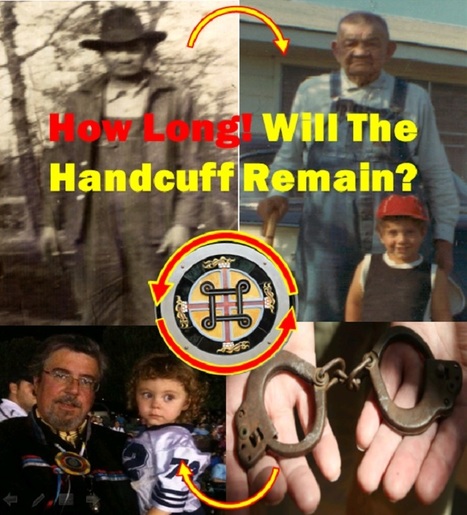 By Shawn Wright | Native View (via Scoop It)
A most revealing and to me riveting study was recently published by Sarah B. Shear, Ph.D. , the likes of which have long been known but remained unproved with scientific validity over the last 500 years.
Feb. 19th, 2015 is a day that ends this voids silence forever more!
The research conducted was a mixed methods content analysis of the nation's K–12 U.S. and state history standards. The study reveals that that Indigenous Peoples were "largely confined within a pre-1900 context devoid of any significant voice.  The narrative presented in U.S. history standards, when analyzed with a critical eye, directed students to see Indigenous Peoples as a long since forgotten episode in the country's development.  The state standards spoke about Indigenous peoples' experiences in broad terms and were often blended within discussions of Euro-American destiny."
There has been found a "Continued prevalence and persistence of a Eurocentric master narrative in our textbooks and standards."  "When one looks at the larger picture painted by the quantitative data, it is easy to argue that the narrative of U.S. history is painfully one sided" "Indigenous Peoples are excluded from the American story. California history textbooks fail to include critical content related to the kidnapping, rape, murder, and enslavement of Indigenous Peoples throughout California during the Gold Rush era.  Instead, one of the texts focused "heavily on the mythology of the era and the thrilling life of American pioneers moving West".  Yet another text, reviewers concluded, could lead elementary students to perceive the Indigenous Peoples as being the cause of "their own demise by attacking miners".  By and large, the California texts failed to adequately address the well-documented genocide of Indigenous Peoples in the state (Trafzer & Lorimer, 2014). While this notion of an American narrative devoid of minority voices is not new, it is ever the more evident now that every state has been examined for such a story. "
Why should I invest effort to broadcast these results so they are widely known much less care enough to invest as much personal resource as is possible to change this? I could say because it's morally the right thing to do but this to me is a bit more personal as well the effects have materialistic components that cannot be denied.  Let's discuss what's in it for you and me. Red, yellow, black or blue does not matter as racial tension within the United States of America is being taught to the children of this country cloaked in secret subliminal messaging.
The study of elementary and middle school social studies textbooks found "they failed to adequately address the long-lasting impact of institutionalized racism" and conclude "what students learn, and fail to learn, will impact the sociocultural knowledge base they will develop about the role race and racial equality played, and continue to play, in the United States".
Continue to play…. There is the whole issue, that's the ominous kicker. If we continue in the same fashion we will produce the same results.  History repeats like a mathematics equation yielding the same result. 2+2 yields the same today as it did yesterday – the only way to change the result is to vary the input.
Textbooks in use present Indigenous Peoples in negative ways.  For example, the study found that Nebraska social studies textbooks told a narrative of history devoid of historical and cultural accuracy and presented Indigenous Peoples as thieves, drunks, bloodthirsty savages, and lazy.
Schools are (still) being used in a CultureCide against me oppressing my children and grandchildren distorting the view and opinion of society and tomorrow's leaders. Stop it now and we have 50 or so years to wait for these effects to diminish from the societal norm!
These dynamics of oppression have been rendered invisible to the main stream for far too long, however painfully visible they are to others. The work of decolonizing education must begin here and now.  We all must engage in the lifelong task of unlearning these things and break their hold over us and more importantly their grasp on the future of our children.
The studies qualitative findings "illuminate a Euro-American narrative that reinstitutes the marginalization of Indigenous cultures and knowledge. Indigenous Peoples are left in the shadows of Euro-America's destiny, while the cooperation and conflict model provides justification for the eventual termination of Indigenous Peoples from the American landscape and historical narrative." "Finally, a tone of detachment, especially with long lists of legal and political terms, dismisses the humanity of Indigenous cultures and experiences in the United States."
The purpose of the study was to "investigate the frequency of and kinds of Indigenous Peoples-related content in K–12 U.S. history standards." And the conclusions the authors reach is that "students are denied opportunities to unpack re/presentations of Indigenous histories, cultures, and current issues within the current standardized curriculum. The authors hope is that by understanding the ways in which state-level standards include—or exclude—Indigenous histories, cultures, and current issues in U.S. history, the implications of standardized curriculum for social studies can begin to form a critical dialogue around these issues .  I applaud their efforts and I pledge effort to spreading their message investing time sounding alarm on this invisibly cloaked emergency.
Questions and debates encircling who has the power to determine specific content and context will continue. As the authors point to, "Silences are repressive. Working against the silences involves informing ourselves" and "We must, as …[a people]… seek to end these silences of Indigenous histories occurring across state standards".
Past studies have shown, the creation and modification of state-level standards are made first and foremost by political appointees though they tend to promote a singular narrative of American history politics can and has been used recently for change. For example, Montana's constitutional amendment, "Indian Education for All," which calls for "quality Indian education for all content" areas, would be a unique case study to see how classroom teachers teach this constitutional mandate along with or against the state social studies standards (Montana Office of Public Instruction, 2014).
Indigenous Peoples did not receive citizen status in the United States until 1924, and their ability to vote was not fully granted until the 1960s, Though Native Americans were the first peoples of this nation we were the last people group allowed to take part in the formation of the nation's governing body. Indigenous Peoples are seen as relics of a distant past, void of a voice in modern America. Brayboy commented "the everyday experiences of American Indians, the Indigenous inhabitants of the Americas, have essentially been removed from the awareness of dominant members of U.S. society".
More often than not, Eurocentric narratives subsumed the implications of westward expansion on Indigenous Peoples within a larger narrative of Manifest Destiny, thus lending justification to American actions and minimizing the human costs of such policies. To manifest its destiny of expanding west, the U.S. government had to deal with its "great problem" Indigenous Peoples. With regard to the impact of westward expansion on Indigenous Peoples, few states included standards related to issues of genocide. In fact, the use of the word genocide in relation to the experiences of Indigenous Peoples in U.S. history was found only in one state—Washington. Despite the activist efforts of Indigenous Peoples, very few states included standards related to Indigenous civil rights actions in the teaching of modern America. American history works to negate the complexities of our history, legitimizes the destiny of White America, and relegates Indigenous Peoples to roles as insiders or outsiders depending on the context of the Euro-American timeline.
"The further a society drifts from the truth, the more it will hate those that speak it…" George Orwell
Manifesting Destiny: Re/presentations of Indigenous Peoples in K–12 U.S. History Standards, Sarah B. Shear, Ryan T. Knowles, Gregory J. Soden & Antonio J. Castro
The Pennsylvania State University–Altoona University of Missouri,  Published online: 19 Feb 2015.  http://www.tandfonline.com/doi/abs/10.1080/00933104.2014.999849
SARAH B. SHEAR is an Assistant Professor of Social Studies Education at The Pennsylvania State University–Altoona, Altoona, PA 16601.
RYAN T. KNOWLES is a Doctoral Candidate of Social Studies Education at the University of Missouri, Columbia, MO 65211.
GREGORY J. SODEN is a teacher of English, Philosophy, and World Religions at Muriel Williams Battle High School, Columbia, MO 65202.
ANTONIO J. CASTRO is an Assistant Professor in the Department of Learning, Teaching and Curriculum at the University of Missouri, Columbia, MO 65211.