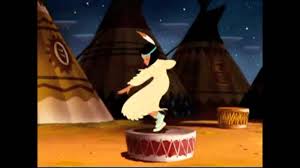 Short Video:Native Americans Through the eyes of My Children https://t.co/nrjZ0o6gHo#INDIGENOUS#TAIRPpic.twitter.com/31EdZ9Kf6Y

— Indigenous (@AmericanIndian8) January 5, 2016
From Yahoo Answers:
Native American cartoon character?
…tomorrow at my school we are having a cartoon character day where each student dresses up as a famous cartoon character.  I have a costume for the event which is a black Indian/native American style dress which I planned to use for Pocahontas, but it doesn't match what she would wear.  Can you think of any other famous cartoon characters I could go as using this outfit?
 Answers
Best Answer:
The only other female Native American cartoon character I can think of off the top of my head is Little Pigeon from the Tumbleweeds comic strip. But unless you live in the wild west, I doubt any of your friends has heard of it. 
Inkwolf
·
2nd Answer:  In marvel Comics there are characters:
1. American Eagle.
2. Thunderbird I.
3. Thunderbird 2.

Who are all male muscle-head warriors.

Danielle Moonstar

I just remembered who Pocohontas was- a chick!
Oh. well you might go for Mirage -Danielle Moonstar- who had illusion-casting powers, and fought with spears and arrows. Colu-1 ·

John RedCorn

John Redcorn from King of the Hill.  Chewyness ·

MORE About Tumbleweeds Cartoon Characters:

The Poohawks

The Poohawk Chief is always lamenting his tribe's pathetic standing.
Little Pigeon is the Poohawk Chief's daughter, and "a flower among the weeds."
Limpid Lizard is a klutzy Poohawk (Indiandom's answer to Daffy Duck) and a suitor to Little Pigeon.
Green Gills is a Poohawk injun and was an early suitor to Little Pigeon.
Lotsa Luck is a very rich Poohawk, depicted for years as mute and communicating by writing notes. He soon started using a very posh voice when he had vocal cords cloned from William F. Buckley Jr. surgically implanted. He was a suitor for Little Pigeon.
Drudgeworth is a chauffeur employed by "Lotsa Luck" to "drive" his horse.
The Poohawk medicine man.
Screaming Flea is the smallest Poohawk, formally speaking in ornate word balloons. He is very sensitive about the size of his nose, which is enormous.
Bucolic Buffalo is the biggest and strongest of Poohawks, but he is not very smart. He is another suitor for Little Pigeon.
Rain Drop is a boy, the only apparent child in the Poohawk Tribe, and at least as smart as some of the adults.
Hulking Hawk is fearsome tribe-member and a more suitable suitor to Little Pigeon than Limpid Lizard, according to the Poohawk Chief.
Purple Polecat operates the trading post.

Tumbleweeds Gulch became an MGM Grand Adventures Theme Park attraction, and the strip also was the basis for a Las Vegas stage show. In 1983, Tumbleweeds was adapted into a musical comedy for high school productions by the same company that adapted the strip Luann.[1]

SOURCE: WIKIPEDIA

[Tumbleweeds at Don Markstein's Toonopedia. Archived from the original on September 3, 2015.]

While working as a freelance commercial artist, cartoonist Tom K. Ryan developed an interest in the works of Zane Grey and other writers about the "classic" period of the American Southwest. In 1965, he created Tumbleweeds, in which he lovingly skewers the conventions and cliches of that genre as only a true aficionado can.

The title character is a typical cowpoke, not too happy with his life in Grimy Gulch but not ambitious enough to do anything about it. His rather laconic steed's name is Blossom. 'Weeds is regularly beset by Hildegard Hamhocker, a love-starved female who will do anything to get a ring from him — or through his nose; she isn't particular. The bad guy is Snake Eye, who rustles cattle, cheats at poker, and does any number of other dastardly deeds. Then there's Judge Frump, who calls an offer of $10 "attempted bribery" but will usually accept $20. The Poohawk Indians provide as effective a menace as the strip needs, especially during Sneaky Week, and are utterly undeterred by the efforts of the local U.S. Cavalry outpost. The cast is rounded out by the usual bit players — barkeeps, grizzled prospectors, the town undertaker, etc.

Aside from tickling readers' funnybones on newspaper pages, Tumbleweeds has been reprinted in a couple of dozen paperback collections, appeared in animated form, served as the basis for a Las Vegas stage show and an MGM theme park attraction, and even, in 1983, been turned into a musical comedy (albeit, not one that was ever performed within miles of Broadway — in fact, it's designed mainly for school productions, and available from the same company that adapted Luann for the same purpose). Another claim to fame is that Ryan's assistant from 1969-78, Jim Davis, went on to create Garfield.

After more than 40 years on the newspaper page, most recently distributed by King Features Syndicate (which also distributed Redeye, which did the same thing, but from the Indians' point of view), Ryan retired. During December of 2007, he announced the end of one of the longest-running westerns in comics history. It was gone by the end of the year.

REDEYE

Medium: Newspaper comics
Distributed by: King Features Syndicate
First Appeared: 1967
Creator: Gordon Bess

---

---

What Tumbleweeds does to the western genre, Redeye does too — but from the point of view of …

… the Injuns. The title character is chief of the Chickiepan tribe, whose members are every bit as ludicrous as the inhabitants of 'Weeds's Grimy Gulch.Redeye is overweight and out of shape, and not very good at chiefing — but he maintains a cheerful attitude about his shortcomings, and about life in general.  His wife, Mawsquaw, is better at her job, which is to raise their son, Pokey (a practical joker whose favorite victim is Redeye. and no relation), and daughter, Tawnee (who is in love with the Chickiepans' stupidest tribesman, Tanglefoot).  Redeye's faithful steed's name is Loco, an indicator of his mental condition.  The tribe is rounded out by a medicine man and a variety of braves and squaws.

Prior to creating this strip, cartoonist Gordon Bess busied himself with magazine cartoons — starting with Leatherneck, a publication of the U.S. Marines, in which he served until 1957.  After he left the Corps, his work was seen in several civilian periodicals, while he maintained a day job as art director for a greeting card company.  That changed on September 11, 1967, when King Features Syndicate began distributing Redeye.  Its success (not just on the newspaper page, but also, starting in 1968, in a series of paperback reprints) enabled him to live where he pleased (Boise, Idaho), and devote his spare time to recreation rather than freelancing.

Bess continued to write and draw Redeye until May, 1988, when illness forced him to retire.  (He died the following year.)  Bill Yates (Professor Phumble, the small society) took over the writing, and Mel Casson (Boomer, Dilly Divine) the art. Yates retired in 1999, and the strip is now done entirely by Casson.

Casson died in 2008, and instead of passing it to new hands as before, King decided to let it end. The last episode appeared July 13 of that year.

— DDM

SOURCE to Don Markstein's Toonopedia™ Home Page

[Editors Note: We ask you the reader to send us ideas on how you SEE other humans – and especially those who are depicted in cartoons… please leave a comment or send an email… we will continue with this project in future posts… Trace L Hentz (larahentz@yahoo.com) ]
Native Representations in Video Games (2011) from Elizabeth LaPensée on Vimeo.